HOME
BIOGRAPHY
BLOG
BOOKS
TELEVISION
SPEAKING INFO
LINKS
MAILING LIST
CONTACT
BIOGRAPHY
Luckily, my career reads like a noveló and a very unlikely novel at that. In more than 25 years of professional journalism, Iíve journeyed from the cocktail parties of New York celebrity journalism, to small wars in the Third World, to the executive boardrooms of some of the most successful companies in American and, most recently, to the ends of the earth in search of adventure.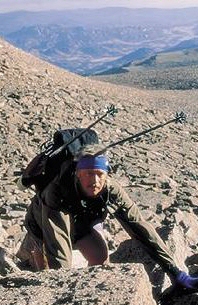 My adventures climbing big mountains, scuba diving flooded cave systems and kayaking spectacular rivers around the world have been chronicled in such magazines as National Geographic Adventure, Menís Journal, Menís Fitness, , Esquire and literally hundreds of other publications. Iíve written 21 books; my Over The Edge: A Regular Guyís Odyssey In Extreme Sports (released May, 2000, in paperback by Wilderness Press), prompted the Wall Street Journal to ask...ĒHow did Michael Bane become the George Plimpton from hell?Ē
Iíve been involved with guns and shooting literally my entire life. Most recently, I conceived and still manage the five-year-old NSSF Media Education Program, which has had a profound effect on the relationship between the firearms industry and the media. It also bought together the perhaps greatest group of firearms instructors of all stripes ever. That "critical mass" of instructors has been redefining handgun instruction, and I'm proud to have had a small part in that. I was part of the 3-person team who handled national media during the Maryland sniper crisis, which as emerged as a textbook example for the industry in dealing with flashfires. I've also handled crisis stuff for IPSC and USPSA. we're currently working directly with major companies on setting up their own media events and training their people to deal with media crises.
G&A host Tom Gresham and I conceived and arranged the landmark deal between Kimber and USA Shooting, the Olympic team, which as resulted in Kimber becoming the largest contributor to Olympic shooting ever ($250,000 so far). I did the initial specification work on the Kimber USA Shooting commemorative 1911, and it's still one of my favorite .45s.
I am an active competitor in IDPA (my membership number is A-00009; I was among the first people my old friend Bill Wilson called when he launched the sport). I have shot USPSA, GSSF, Steel Challenge, NRA action, cowboy, 3-gun, bullseye, air pistol, sporting clays and a little rifle competition. I have been involved in practical pistol since the old "combat shooting" days...in fact, I met Walt Rauch and Dave Arnold before they formally created USPSA, and I was lucky enough to be involved in those early meetings.
I conceived, created and named FRONT SIGHT magazine for USPSA. I was in the very first "test class" of what would become the National Range Officer Institute, and I worked for years as a range officer, chief range officer, rangemaster and match director in practical competitions. I was rangemaster in charge of "hopeless cases" at the 1986 IPSC World Championships; match director for state championships; a rangemaster at the SWAT Round-up and in other LEO competitions and the founder of 3 clubs (most recently, as the co-founder of Front Range IDPA in Colorado).
I'm the graduate of numerous shooting schools and shooting seminars (most recently the grueling Rogers Shooting School in Ellijay, Georgia; I also believe my friend Mas Ayoob's LFI I is MANDATORY for gun carriers) and have instructed both basic competition and basic self-defense classes. I've worked as a role-player in both civilian and LEO scenarios, most notably as a "guest terrorist" with the Ranger batallion at Ft. Benning running scenarios against numerous top police special teams.
I'm looking forward to eventually doing some tactical and long-range rifle, and I'd love to get back to 3-gun with my JP Enterprises AR, which is one hell of a rifle!

As an author, I co-wrote with world and national champion John Shaw one of the first basic texts on practical shooting, YOU CAN'T MISS. I co-wote Bill Wilson's first book, THE COMBAT .45 AUTO. My own book laying out my concepts of decision making in potentially lethal situations, TRAIL SAFE, has been extremely successful (Gavin DeBecker, author of THE GIFT OF FEAR and consultant to the Secret Service on evaluating threats to the President, called TRAIL SAFE "indispensible").
I've been super lucky to "sit at the feet" (and own guns made by) of some of the greatest gunsmiths of our time, including Jim Clark Senior, Richard Heinie, Bruce Gray, Bill Wilson, Ross Carter (who built my "dream gun" for AMERICAN HANDGUNNER, which we then auctioned off with the proceeds going to Ross' rehabilitation after his horrific injuries), Les Baer, Bill Laughridge (who once said I should be banned by federal law from owning a Dremel tool), Wayne Novak and many others. Most recently, I've been tremendously impressed with Ernest Langdon, Matt MacLearn at SIG, and, of course, the great Jim Garthwaite.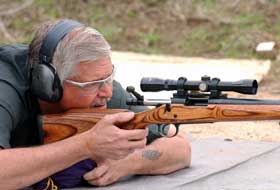 I have contributed to AMERICAN HANDGUNNER (since it's 3rd issue), HANDGUNS, COMBAT HANDGUNS, SHOOTING TIMES, GUNS & AMMO, SHOTGUN NEWS, GUN WORLD and pretty much every other firearms publication; I've also written commentaries on firearms issues for such people as the WALL STREET JOURNAL and the AMERICAN JOURNALISM REVIEW. I'm on the books as a consultant to NBC News on firearms and firearms issues and have been quoted extensively nationally on guns and RKBA issues. I've done special editions of magazines on firearms (evaluating weapons, techniques, tactics, etc.) for both civilian and law enforcement markets. I tried to salvage GUNGAMES magazine, but I do not and will not work with people who are...less than honest.
I have worked as a paid consultant to major firearms companies on gun design and marketing and consulted with police departments on firearms choice. I have had a CCW pretty much forever and carry concealed every day (either an STI LS-9 9mm overhauled by Dane Burns in Seattle; Alessi IWB holster; 9mm +P Cor-Bon or Hornady 124-gr JHPs or the "summer gun," a Colt .380 Mustang overhauled by Scott, MacDougal, also in a Lou Alessi IWB, with Cor-Bon screamers). I have drawn a gun on a human being 3 times, and--thank God--I have never had to pull the trigger. I got shot at one--count 'em, one--time, by a Cuban sniper on Grenada who luckily couldn't shoot worth a darn. Scared the crap out of me!
I have a black belt in tang soo do and have studied half a dozen other arts; I was lucky enough to briefly learn knifework from legendary FMA sifu Dan Inosanto and have most recently trained with master of the blade Mike Janich. I have a life-long love affair with Bali-Songs, but my day-to-day knife is an old and tired Benchmade Emerson knock-off. I still have the first handgun I ever owned (an S&W "Regulation Police" I-frame in .38 S&W, a gift from my father when I turned 12 years-old); my most recent handgun aquisition is an FNH Five-seveN.
I have never been a SEAL, an "operator," a member of a special team, a stealthy ninja killer, or a secret agent--and I've never held myself out as one. I am, however, a shooter.